the SHOP.

Mainly powered by its owner's ever playful imagination, Curls & Twirls is a home-based online shop that aims to promote individuality and uniqueness above all else. Our product catalogue is always an amusing hodgepodge of curiosities — from sushi flash drives, funny sleeping masks to iconic hamburger phones — all delightfully cute and quirky in form, yet very conventional in regards to usage.
Founded in January 2009, Curls & Twirls has been one of the leading novelty stores in Multiply (top 50 merchant) and eBay (top-rated PowerSeller) since its opening, with much appreciated features and exposures from various magazines, TV shows and blogs. Besides the many customers we are proud to have served online, we also regularly showcase our products at selected bazaars and conventions.
Lastly, Curls & Twirls serves as a direct supplier for several establishments. A selection of our items (mostly our handmade creations) can be found and bought in the following:
SM Dept. Stores – Stationeries & Girls sections (selected branches)

Robinson's Malls – Gift Items section (selected branches)

PinkBox Accessories (SM Southmall)

Little Town School & Office Supply (selected branches)

Tickle's Shop (Alabang Town Center)

In 2012, M.O.E. ギャルズ ("moe gyaru") was launched as a sub-brand of Curls & Twirls. Named after the owner's manga group, M.O.E. ギャルズ is a line of jewelries and accessories inspired by Japan's ever edgy fashion (particularly Gyaru and Harajuku). All items bearing this name are 100% handmade by the owner herself, and reflect the same passion for all things pretty and colorful that Curls & Twirls is very much known for.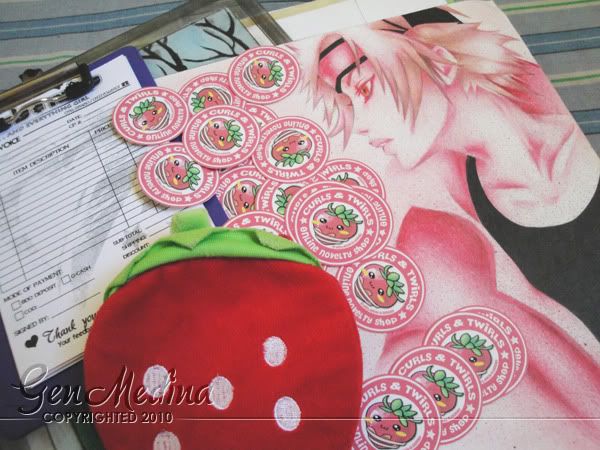 Check our Media section to know more about our shining moments.
Check our Events section to know when and where you can see us in the flesh.
Check our Stores section to know more about our partner stores.

Rest assured; your satisfaction as our customer is highly guaranteed. Curls & Twirls is here to cater to your need for quirky novelties — all honestly described, practical to use, promptly delivered and carefully priced to fit even a student's budget!
the STORY.

Curls & Twirls was conceived by one Genny Medina around October 2008, made its existence known to Multiply in December 2008, and officially opened its collection of quirks in January 2009. There were no dramatic cliché stories about a girl's love for (insert noun here) and her desire to share her newfound passion to others, because in truth, Curls & Twirls was simply founded on a whim — Genny was bored and wanted something 'fun' to do, and selling stuff online seemed 'easy' enough. Fully convinced she's had a stroke of genius, she then proposed her plan to her boyfriend, and somehow talked him into becoming her helper gnome.
Indeed, the idea of opening a store and naming it after the first two rhyming words that popped in her mind was yet again a fruit of Genny's whimsical randomness and impulsive tendencies — another addition to her ever growing collection of act-now-think-and-regret-it-big-time-later decisions. And clearly, she had absolutely NO idea what exactly she was getting herself into! Curls & Twirls might have been a huge misjudgment on her part, but it was the best one she's ever made. Now, what was once supposed to be a sideline until she decided to 'grow up' (as termed by her dad) became a thriving business and more. She really loves how it turned out to be a blessing in disguise.
the PEOPLE.
Genesis Medina a.k.a. Genny, owner. Always headstrong and unpredictable, Gen is someone who chooses to live, breath and relish a lifestyle based on what she loves. She is a moody artist, a whimsical writer, a curious craft bug and an adventurous entrepreneur, but among her peers, she will foremost be known as the girl with the poring-like smile — and the attention span of a goldfish! Gen graduated from college at PWU (BS Fine Arts – Advertising) in April 2009, and has been a full-time businesswoman ever since.

Anthony Hembrador a.k.a. Une, assistant. This pretty boy is Genny's longtime boyfriend turned fiancee, and her (sometimes unwilling) accomplice in her many schemes and (mis)adventures, always making sure that his beloved girl is out of trouble. A graduate of the same university and course, he is now a senior Graphic Artist at an advertising agency and a co-founder of Cuha. Une is quite a busy bee, but he always makes time for his passions — photography and mountaineering.

Hope you had fun reading. Nice to meet you!